Discover more from Kristaps Mors
Stop losing money and learn to invest wisely
Over 1,000 subscribers
On July 23rd I received an interesting email - a legal complaint about my first FastInvest review. In attachment there was 8-page long claim, which was signed by attorney at law Mr. Paulius Čerka, but the logic and arguments were so weak that I think it is more likely a legal assistant or intern wrote it. Maybe the same Ugnė, who sent it to me?

Here you can read the full claim: Fast Invest claim against Kristaps Mors
The short version of FastInvest claim:
Some facts are outdated

I did not verify info with content on their website (which was blocked in Latvia at the time of writing)

I acted fraudulently, led by personal incentives and introduced facts in sensational manner

Random references to GDPR, US law practice, "run on the bank"
And the big threat:
FastInvest is collecting data to calculate damages and consider starting criminal procedings
Finally their request to me:

---
What was my response?
I sent them the following meme: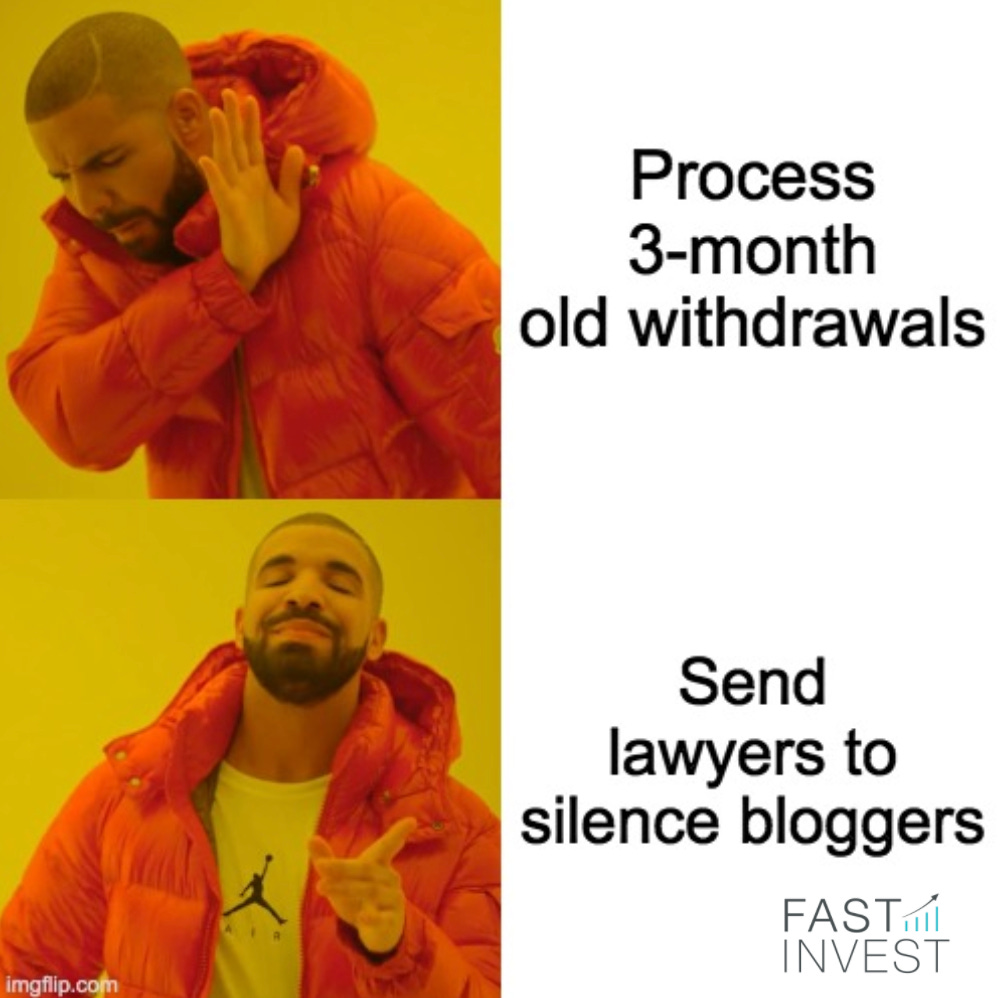 Well, not really, here you can read my full response: Kristaps Mors response to FastInvest
What is the short version?
I conclude that Claim is not legally and logically enforceable and is written in emotional and not rational way.

For this reason at the moment I am collecting data to calculate pecuniary damages made due to the fact, that I had to consult top legal advisers in field of civil law, criminal law, GDPR, USA law and EU law, invest time and money to reply to Your claim in unreasonable 7 days and actions to be taken, if further escalated.

Having regards to aforementioned and to stop further damages, thus I hope for cooperation and therefore request the following:

1.     Withdraw unreasonable and legally not enforceable Claim;

2.     To contact me directly and/or agree on meeting/call time, if FAST INVEST wishes to express its part of the "story" and correct data in blog posts about it.

Please provide information within 7 days; otherwise I will be forced to lodge a civil counterclaim and to take necessary legal steps in order to initiate criminal proceeding in respect of Defamation.
---
Key takeaways
Another red flag for FastInvest - they could contact me to correct any errors, instead they send lawyers asking to delete my blog post

FastInvest legal claim is very weak, they should probably use a different law office when they have to fight against their own investors

Maybe this practice of bullying bloggers has worked for FastInvest before? If anyone else has received something similar, let me know.
---
P.S. Join "High-risk investments" Telegram group for an informal discussion.