Discover more from Kristaps Mors
Stop losing money and learn to invest wisely
Over 1,000 subscribers
I wrote a very critical FastInvest review on Jan 24th, 2020. If anyone took it seriously, it might have saved them some money, because since April many investors are not able to withdraw anything from this P2P platform.
So what are FastInvest investors doing? At first they tried to contact FastInvest support, but got only empty promises and excuses. As a result many of them have started to write very critical comments in Trustpilot and at this point FastInvest rating has decreased to 2.9: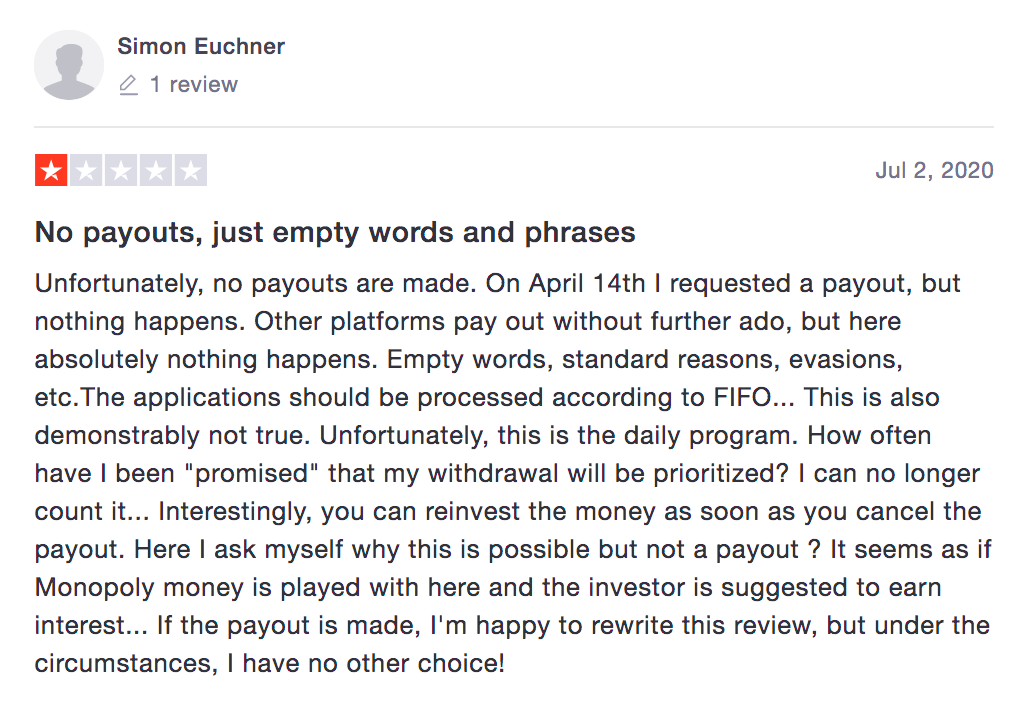 List of things that have happened since April:
FastInvest removed the 1 day Buyback Guarantee 

Investors are asked to provide new documents to prove their identity

All interest payments are suspended

For many not possible to withdraw money since April

Investors who signed up from outside European Union, were allowed to invest, but when they try to withdraw money - they are asked to verify their identity again and select their country, but only EU countries are provided as options

New fee of 1.5 EUR added for withdrawals

Investors are asked about the reason, why they want to withdraw
As you can see, it looks really bad. Not only there are many reports from investors, who are waiting for more than 3 months to receive their money, but FastInvest also refuses to provide exact timeframe, when these withdrawal requests will be executed.
Business problem or fraud?
Many P2P platforms and many Loan Originators are facing issues now, Covid-19 has exposed the real risk behind these P2P investments. But in case of FastInvest there are couple of things that point to a fraud, not a business problem:
Investors cannot withdraw money that was not even invested, only deposited in their FastInvest account. If FastInvest would work like they describe themselves, then this situation should never occur:
"FastInvest is an online peer-to-peer platform acting as an intermediary in the sale of claim rights between investors and loan originators."
Basically FastInvest should have never touched or used that part of investor money, which was not invested in any loan. But based on the fact, that also this money is not accessible and possibly - spent already, then this looks like a Ponzi - where new investor money is used to pay old investors. When the party stops and more money is withdrawed than deposited, then this "business model" stops working.
The same money that FastInvest refuses to pay out to investors, can be invested in new loans. How is that possible? I see only 3 options:
a) FastInvest has many withdrawal requests and only 1 drunk person working once per week to process them. That results in backlog of 3+ months, and FastInvest management decided - no need to hire more people for this task and no need for IT to automate this, let's instead build a new website version and spend more of our support team's time on giving excuses. Is this possible? Yes. Probable? Don't think so.
b) FastInvest loan portfolio is in a bad shape, but their platform, reputation and promises are built in way that don't allow for this kind of scenario. So instead of seeing late/defaulted loans in their portfolio and being able to get back only part of money, investors are provided with an unrealistic expectations and "fake money", that does not exist. If that is the case, then allowing to invest this "fake money" in new loans sounds like a disaster.
c) FastInvest is a Ponzi - and pays to old investors with new investor money. If the money outflows suddenly increase and inflows decrease (like it did with Covid-19 crisis), then you have to either shut down this "business" or stop withdrawals and wait when situation "normalizes". If this is happening right now, then maybe FastInvest team is hoping that the panic will stop, new investors will turn up again and they can slowly process the backlog of old investor withdrawals. Maybe they also hope that some part of investors who tried and failed to get money back, will instead start "investing" it again.
To me this whole situation makes no sense, unless fraud is involved. Either the money is there - and investor should be able to both withdraw it and invest it, or money is not there - and then investor should not be able to do any of these actions.
But FastInvest is acting like a Schrödinger's cat - only if you try to withdraw money - you can find out, if your account showed monopoly money or real EUR.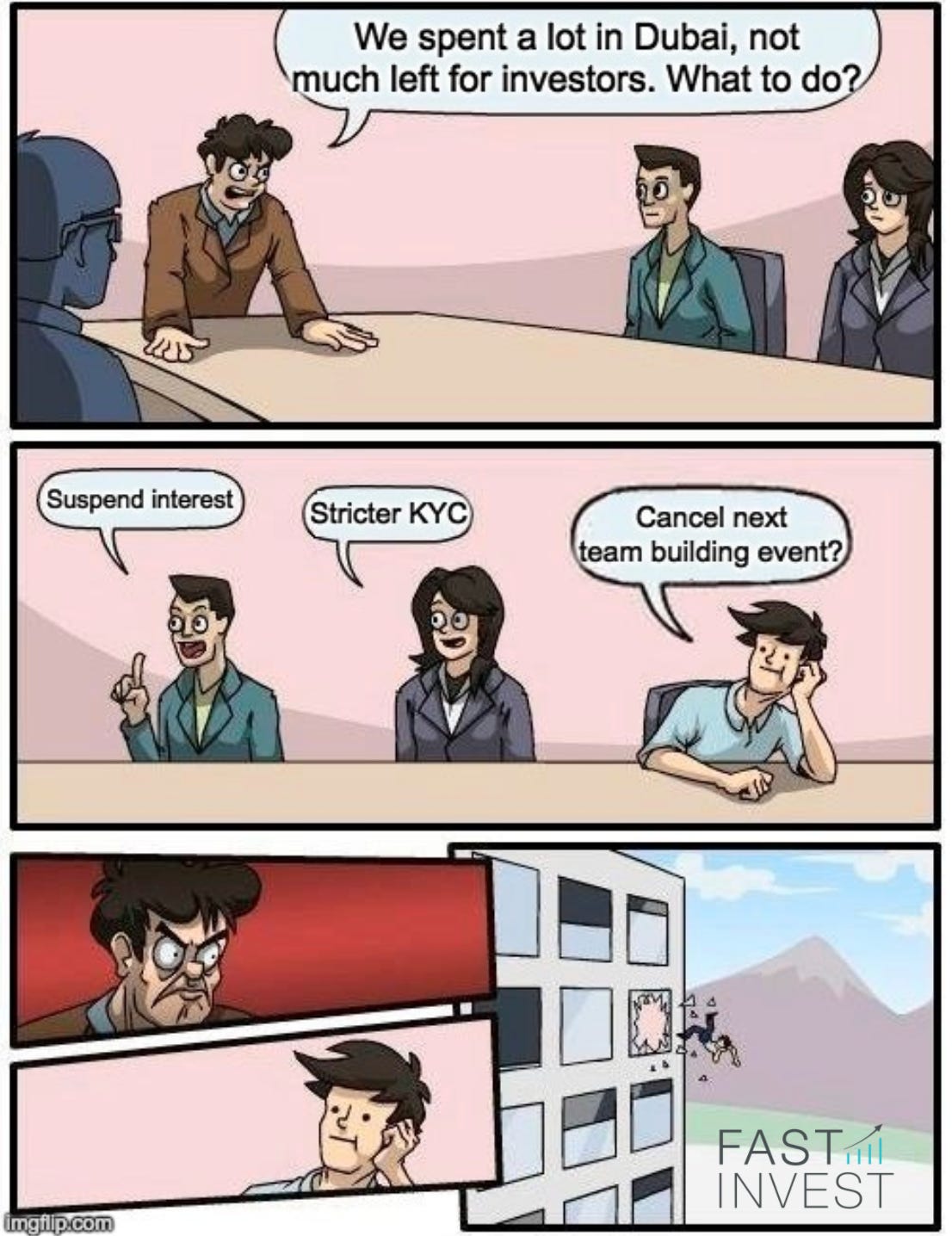 What can investors do?
Some of FastInvest investors, who are tired of 3+ month waiting to get access to their own money, are preparing to start legal action.
If you are one of them, check out these resources:
Note that I am not affiliated with this group and I am a bit skeptical, if any of these P2P lawsuits will help to get investor money back. But taking into account that police in Baltics won't react to individual complaints at all, then joining a larger group and getting proper legal advice might help shut down shady P2P projects faster.
Also - if enough investors will complain, payment service providers will have to act and investigate or freeze/shut down payment accounts.
How much money is at risk?
Some stats from Telegram/Google Form: based on the first 66 responses to investor survey, at least 130 000 EUR are "stuck", so on average about 2000 EUR per investor, which sounds quite believable. For example, average investment per investor in Mintos is €2928, in Viainvest €3208.
But taking into account that this survey was created only couple of days ago, I guess the real number of affected investors is at least 20x higher and potentially this could end up just like Envestio, Kuetzal and Grupeer with millions of EUR stuck/lost.
If we can believe FastInvest's own reported numbers: they have 41 000+ investors, issued 6 million EUR worth of loans in last 3 months. Sounds like another really expensive lesson.
How to contact FastInvest?
If you are an investor at FastInvest and not sure, what to believe, forget about their standart support - it has not helped in last 3 months. Instead try speaking to someone from their team and get proper answers to questions like these:
Is there is any money to be processed at all? Can they prove it with an audit or some other way?

Where are their financial reports for 2019? They have 2 legal entities: Fast Invest LTD (UK). Fast Invest, UAB (LT).

Who are their partners, Loan Originators? How are their portfolios doing? Who is providing their famous 6 guarantees?

If there is money, why does it take more than 3 months to process a simple withdrawal request? How many people process them? And how many requests per day can 1 person approve? Why is not the process automated?

What is the CEO and management doing/thinking? Don't they see the need to explain these issues in a transparent way? Just look at DoFinance - they fucked up, even removed promises from website about their buyback guarantee, but at least they are available for communication, doing webinars. Mintos fucked up and their team is creating pending payment reports almost each week, doing webinars as well.
How to reach FastInvest team? Check their LinkedIn page - maybe you have some common connections, or if you happen to be near Kaunas, Lithuania, visit their office at V. Putvinskio g. 50, LT-44211 Kaunas.
Good luck!
---
Key takeaways
If there are many red flags and "too good to be true" promises, stay away

Next team building event for FastInvest might get cancelled

Investors might end up with lot of money lost
---
P.S. Join "High-risk investments" Telegram group for an informal discussion.