Last week I got invited to check out the new Mintos office and talk to Martins Sulte. So of course I could not pass this opportunity to ask some inconvenient questions. Thanks to Diana who organised the meeting and Martins for taking his time.
The full interview is almost an hour long and I recommend to listen to the audio or video version, but for those who are in a hurry, I've prepared a condensed text version of questions and answers below as well.
For those, who just want to see Mintos office - skip to the end of video at 55:50
---
Interview with Martins Sulte, CEO of Mintos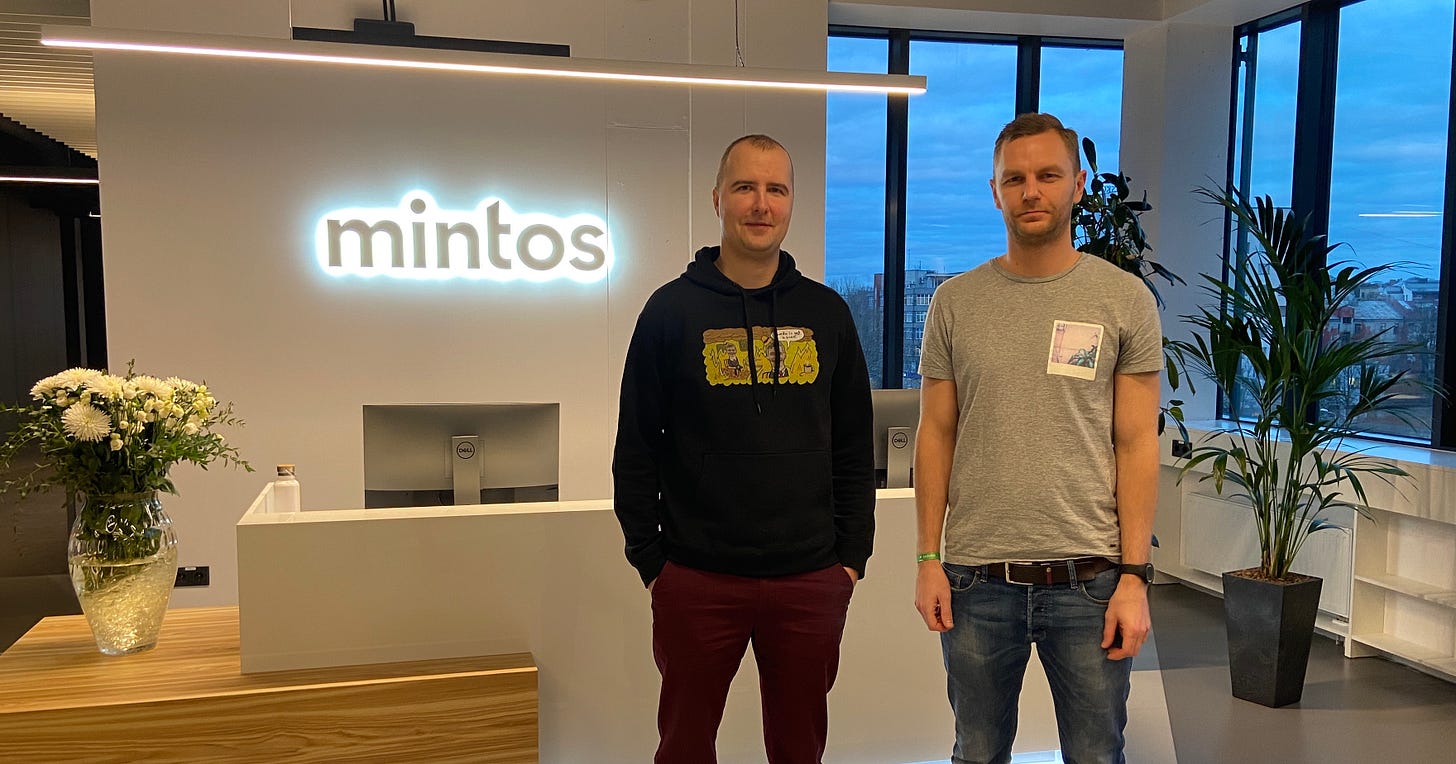 1. Who came up with the idea about Mintos? How was it financed in the beginning?
After I finished my INSEAD MBA, initially I wanted to create a venture capital fund, but at that point there were not that many startups to invest in. Idea about Mintos came after reading about Landbay on TechCrunch and it seemed that this angle - loans backed by real estate makes sense and we could replicate it in Europe. It was financed by 4 guys, who I knew from studying together in SSE Riga. They had already sold their first company and were looking for projects to invest in. Mintos investors (now mentioned in About Us page as well):

Maris Keiss (co-founder of 4finance and Mogo)

Aigars Kesenfelds (co-founder of 4finance and Mogo, investor in Artsy and Madara Cosmetics)

Kristaps Ozols (co-founder of 4finance and Mogo)

Alberts Pole (co-founder of 4finance and Mogo)
2. Can you comment on the structure of Mintos legal entities?
The main entity is AS Mintos Holdings, all other legal entities are daughter companies. There are companies that hold technical IP, or are used for financing, and we have several local companies to employ people - in Poland, German and Mexico.
3. Who owns Mintos? And how has it changed over the years?
It is owned by already mentioned 4 investors, me and other co-founder Martins Valters, and also our employees - who own stock options. Mintos has raised a total of € 7 million - € 2 million seed funding in 2016 and € 5 million Series A funding in 2018, all by the same investors. We don't plan to publish our cap table, but to clear up one misconception - yes, Aigars Kesenfelds shows up as a beneficial owner of Mintos and that means he owns more than 25% of Mintos, but it is not like many believe - that he owns 100% of Mintos, he owns much less than 50% of Mintos.  
4. Can you comment about AS Hipocredit? You and Martins Valters are listed as Members of the Council there, and previously it was named "AS Mintos"? Are you or Martins Valters involved in any other Loan originators as well?
In the beginning the idea behind Mintos was to fund real estate loans as a typical P2P lender, but later we pivoted to the idea about creating a marketplace to connect investors with Loan Originators, and also changed all the structure. Since we were involved in Hipocredit in the beginning and helped to set it up, we sold most of our shares, but we still own a very small share of this company and we are passive shareholders. We are not involved in any other Loan Originator on Mintos.
5. Aigars Kesenfelds is connected to at least 13 Loan Originators on Mintos: Mogo, Hipocredit, Lendo, Banknote, Finko, SunFinance, ExpressCredit, Peachy, Tigo, Monego, Kredo, Zenka, Vizia. And recently in Estonian news there was an article claiming: "The platform has provided loans of more than EUR 4.5 billion, but investors are unaware that nearly half of the money that goes there goes to Aigars Kesenfelds, the owner of Mintos". Any comment?
Even if there is some shareholder overlap in these Loan Originators, investors should focus on loans and their performance - what is the underlying loan they buy? Loans in different countries have very different situation, and only if the performance of loans is bad, then the question about BuyBack Guarantee and shareholders might come into question.
6. Do you know about Optitrade24 project? It promised huge, guaranteed returns to investors, but it was shut down in early 2016 and investors, mostly from Russia, lost millions of EUR. According to unofficial info it was owned by Aigars Kesenfelds and Armands Broks, owner of Twino. Considering that recently several P2P platforms from Baltics have shut down in a similar way and are seen as scams, then this kind of info about Mintos and Twino shareholders can be troubling for some investors. Would it be possible from you or Kesenfelds to provide more comments about Optitrade24?
I don't know about this specific case. Cannot comment on it.
7. In explorep2p review of Mintos there is an interesting question: Can Finitera afford to buyback €8 million of Monego's bad loans? Any insight, why there are delays in making these buybacks?
Finitera is a bigger group, Monego is part of it. It was an unexpected situation. But Finitera understands that if they won't stand behind a local problem in one country, funding loans in other countries might become an issue. It is a cash flow problem and money needs to be collected from borrowers and administrator, but our understanding and expectation at this point - that the promise will be kept and investors will be paid back.
8. Last question about Aigars Kesenfelds – in Latvia he is shareholder of about 100 companies, so he must be quite busy managing all of these investments. But for Mintos investors it could be more assuring if they would get an opportunity to learn more about him or meet him. Can we expect some interviews or appearances in events, for example in P2P conference in Riga?
He is not actively involved in daily operations, so you should look at him and other investors as a angel/seed investors that provide capital, but at later time we might attract funding from a different source, and we don't expect that, for example, Index Ventures would appear in P2P events or elsewhere talking about us in case if they would become our investor. And probably Aigars should answer this by himself, but in my view this is not something we expect from him.
9. Some loan originators have also issued bonds that in general provide more safety and higher yield. What is the value of making investments on Mintos in individual loans and not in these bonds?
Bonds will not always be safer, some bonds can be unsecured as well. Benefits for Mintos investors - bonds are not accessible to most investors, usually you need 10k EUR or more, liquidity for bonds is very different - many are thinly traded, but Mintos secondary market is very active and one of our investors was able to sell 1 million worth of loans in 24h. When you buy bonds - you buy part of company, if you buy loans on Mintos - you buy performance of specific loans.
10. Is Mintos in possession of the actual loan agreement between the originator and ultimate borrower? What protection does the investor have if Mintos and originator disappear? How can they make a claim against the ultimate borrower?
There are 3 agreements: 1) agreement between borrower and Loan Originator, we show template of it on website 2) assignment agreement between investor and Loan Originator, where investor buy claim rights from Loan Originator 3) agreement between Mintos and Loan Originator that governs our relationship - use of platform, events of default, etc. In worst, but very unlikely case, if Mintos and Loan Originator would both shut down, investor can use their assignment agreement - that is legal proof that they have claim for that specific loan, and they could turn to administrator to claim rights to receive payment from borrower.
11. Can Mintos publish how much debt each originator has from other sources? And where their Mintos sourced debt falls in the hierarchy?
We are publishing info from Loan Originators in form of presentations and annual reports. Many of them are private companies, and we are at mercy of them, and there are lot of limiting factors. None of them are even happy to publish annual reports, and in these investors can find info about their debt holders.
12. Mintos obviously is very successful, and operating with billions of EUR, but at the same time there has been no progress on regulation or getting any licenses. What has been the biggest challenges so far?
Regulation is a very complex issue, but the most important part - all the loans that are issued by Loan Originators are done according to local regulation. Regarding Mintos as a platform - there is not a one license that we could get and in all world we could work with investors, so we must check the situation in each country, we work with local legal advisors. Just like in AirBnb, Uber, drones - also in this sector innovation comes first, regulation later. To reduce uncertainty - we are in final stages to getting EMI (Electronic Money Institution) license and are also applying to investment brokerage license.
13. At the end of 2018 investors held about 6 million EUR of cash in Mintos that was not invested. How big is this cash position right now? How is it stored?
It is around EUR 27-30 million, we have many banking partners. And we choose our banking partners carefully, for example - LHV in Estonia. We see it a very low risk for one of our partner banks to shut down.
14. Some investors are very unhappy with the implementation of "delayed payments", which in some cases means that investors are lending their money for weeks or months without any interest. Any plans to solve this issue?
Pending Payments is a necessary tool that we established. It is a first iteration, we have to improve and we are listening to investor feedback.
15. There was a situation where Mintos added a Loan originator called Nexus, and removed it only 3 days later without explaining it. And that happened 3 times already – with Invescore and another one as well. Can you comment on these cases?
To my knowledge it was only in Nexus - after connecting them, we saw the loans they issue and we were not comfortable with that. Risk seemed too high and we also have to do AML checks.
16. How often do you monitor Loan Originators and what signs do you look for when you decide to change their rating?
We monitor them in real time. Our risk team has certain red flags about portfolio changes, if they are triggered - more investigation is done. All is risk based - for lower rating Loan Originators we spend more time, for higher risk rated - less. The whole team that includes account managers, legal team, AML team, risk team - is about 60-70 people, so there is lot of effort going on in the background.
17. Many investors don't feel like you are doing a very good job at checking or monitoring your Loan Originators. And of course – they want to do their own due diligence, but in some cases – it is hard as the financial reports are old or not available in English. For example, LF Tech financial report about 2018 was added only couple of days ago. At the same time Mogo has already published their 2019 numbers. Don't you think, that there should be higher standards for Loan Originators to be listed on Mintos?
We do our best, and pursue them that it is also in their interest. But all of them are in a very competitive space, and they worry - that as soon as they publish their reports, their competitors will go to Mintos to check them. So there is a balance between being open and foolish. And there is a lot of information about Loan Originators - for us much more important is, how the cohorts of issued loans are performing, what are the default rates, what happens with regulation, and market etc. Investors have to trust that we do our job well and it is not possible to recheck each fact, and that is why we need a 200 people team to decipher all of this information.
18. Any comments on GetBucks – they had issues, and lately there has been some positive news, but they still have late payments, and still a very good B rating on Mintos. Why has not their rating changed?
I would have to ask my team specifically for this Loan Originator. We monitor ratings on a quarterly basis, when we recheck all of them, but if there are substantial events that might trigger a rating change - then that is done out of this usual order.
19. When can we expect to see Mintos financial report for 2019?
Until April 30th, but we also working on consolidated reports. As soon as we get the report signed by Ernst & Young, we will publish it.
20. Any changes planned to Invest & Access? It seems like a good tool for Mintos to sell loans that no one else would pick up, but not a very good product for retail investors.
This tool is meant to be very simple and not all tools should apply to everyone. Some will use Auto Invest, some will invest manually by selecting specific loans, but there are people - who don't care that much if they get 10% or 12% and don't want to spend too much time, so for them Invest & Access is the best option.
21. What can we expect in next 6 months in terms of new features or updates?
Today we launched the mobile app - we will continue updating it and we believe at some point it will be the primary way to interact with Mintos. The moment we get licenses, we will roll out bank account numbers and the next step will be Mintos card on top of it.
P.S. Disclaimer: I am an investor in Mintos.
---
Want to get access to exclusive content? Become a paid subscriber:
Or join "High-risk investments" Telegram group for an informal discussion.