Discover more from Kristaps Mors
Stop losing money and learn to invest wisely
Over 1,000 subscribers
Third version of P2P platform ratings is ready with 6 new platforms added - Viainvest, Peerberry, Viventor, Swaper, Lendermarket, Quanloop. Which one got rated as "B" and which one received the famous "WTF"? Let's find out.
How does it work?
For each platform I go through 39 questions, they are divided in 2 parts:
First 20 questions: platform can gain points (from 0 to +2)

Last 19 questions: platform can lose points (from 0 to -2)
After all points are counted together a rating is assigned from A to WTF. To get the A rating, platform needs to get at least 80% of max possible points, for B rating at least 60% of max possible points, etc.
What has been changed since last update?
First of all - thank you to everyone who commented on Google Doc, blog post or even in some forums - I read those too. All feedback is welcome!
I've tried to resolve some issues with the rating system and removed 9 questions (duplicates, not important or too subjective) and added 1 question.
How has these changes influenced assigned ratings?
EstateGuru - got upgraded from B to A

Crowdestate - got upgraded from D to C

Iuvo Group - got upgraded from D to C

FastInvest - got downgraded from F to WTF
Are these ratings good? Can they predict anything?
More time is needed to get a better sense - if these ratings are as dumb as any other P2P platform comparison or not, but in my view the first signs are good:
On February 11th I rated Monethera as WTF, on March 27th they issued a statement about suspending all activity. Almost no one believes it, 500+ investors have created another lawsuit group in Telegram.

On March 8th Grupeer was rated as WTF, on March 9th I wrote a post: "Will Grupeer blow up or fix their issues?". If you look at the Grupeer blog - they continue to post bullshit statements, but if you ask their employees, who were let go, or 1000+ of their investors, who cannot withdraw even uninvested money or Loan Originator partners, who cannot reach them for weeks, it should be clear, that Grupeer is done, and was a scam - they had some real Loan Originators and real loans, but mixed it with fake loans and fake Loan Originators as well.
New platforms added
I've added 6 new platforms with following ratings:
Viainvest: +24 points, rated as "B"
Licenses, secondary market & 2-factor auth is missing, but otherwise looks good

Peerberry: +13 points, rated as "D"
Aventus Group promotes Peerberry, but does not own the platform. No financial reports for Aventus Group or Peerberry are available. This is like a black box. Paysera is used for payments and even investors from the UK, US can invest, which to me is a bad sign and might send a signal "any money welcome, we will deal with legal issues later".

Lendermarket: +10 points, rated as "D"
Lendermarket is owned by the same company as Creditstar. Platform is new, reports are available only for Creditstar. No info about Lendermarket team and not a serious bank account for deposits. Maybe these issues will be fixed later.

Viventor: +7 points, rated as "E"
Viventor is 100% owned by Prestamos Prima that is 100% owned by a Cyprus offshore company. If there are any issues later, good luck reaching anyone. Owner's reputation, missing transparency and not using a serious bank is something I am worried about as well.

Swaper: +6 points, rated as "E"
Another black box and serious problems with transparency. Swaper offers to invest only in Wandoo Finance Group loans, but this group does not own the platform. Why? There are no financial reports - not for Wandoo, not for Swaper. Swaper is just a small company with 2500€ capital, and it promises to guarantee the BuyBack for Wandoo loans. How?

Quanloop: -16 points, rated as "WTF"
This looks like a failed project, just rebranded & sold to dumb P2P investors. Company's previous name was: BONDKICK CREDIT FUND USALDUSFOND. The only review I found, does not inspire confidence. The platform looks shady as hell - no info about projects and not even clear if you can withdraw anything.
---
P2P platform ratings
Results for this month can be seen in a Google Sheet document or below: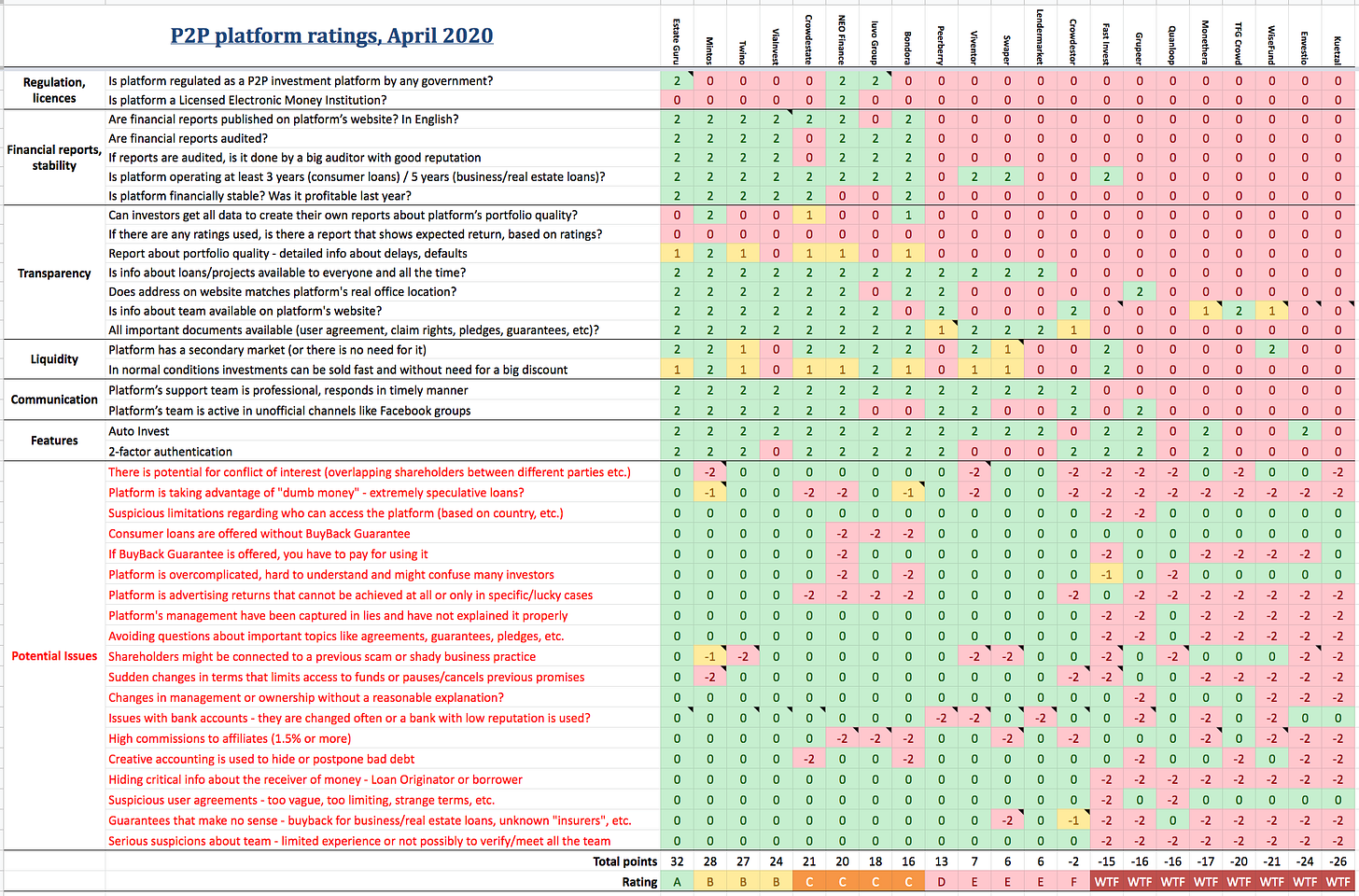 As you can see - from 21 platforms rated only 1 got "A" rating, and even "A" means "almost investable", so still consider it as a high risk P2P platform.
I've heard lot of promises about getting licenses - from Mintos, Twino, Viainvest - so if they really get there, that should improve the depressing state of P2P, otherwise - it feels like Wild West - too many shady platforms, 5 already shut down, more to come.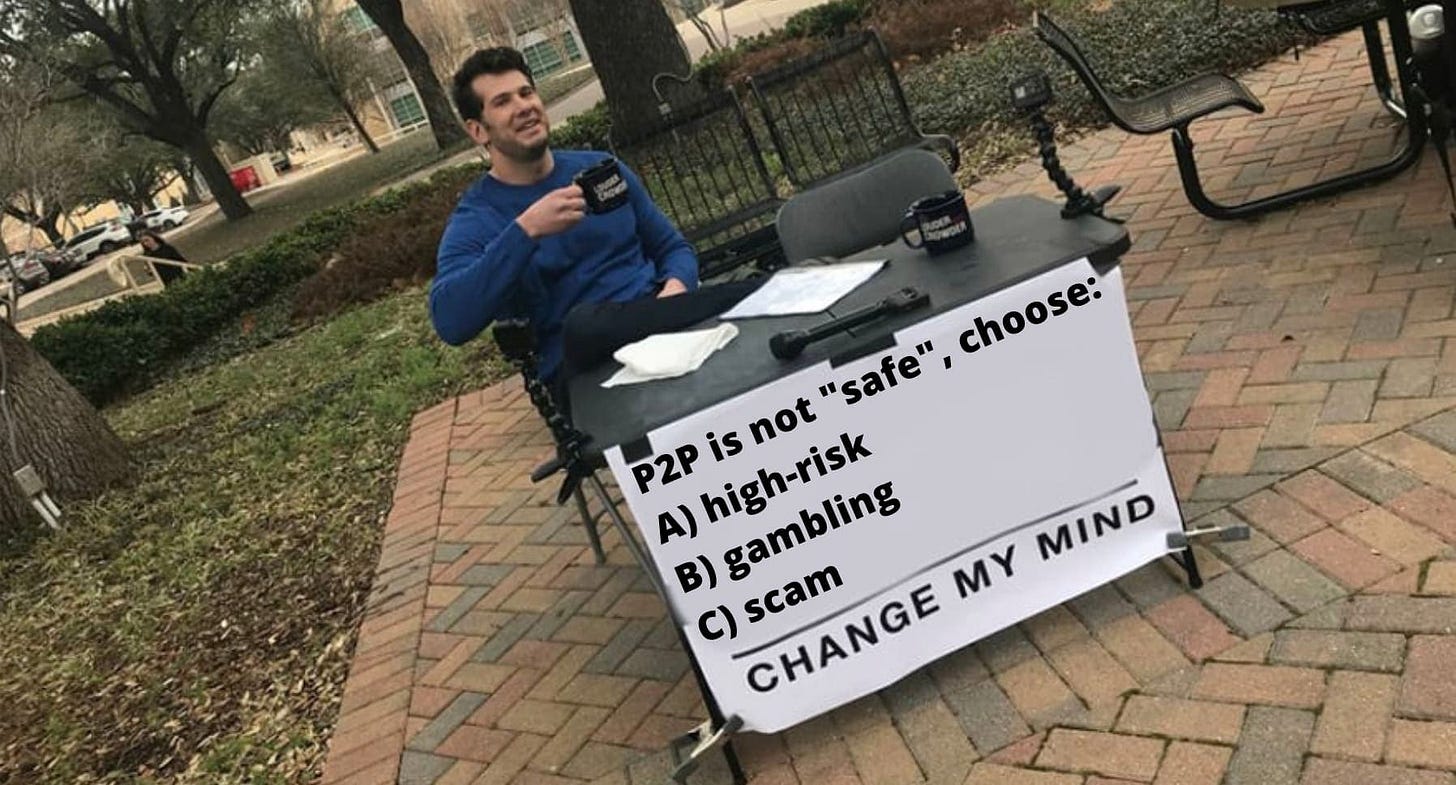 Final results for those, who like colors and letters: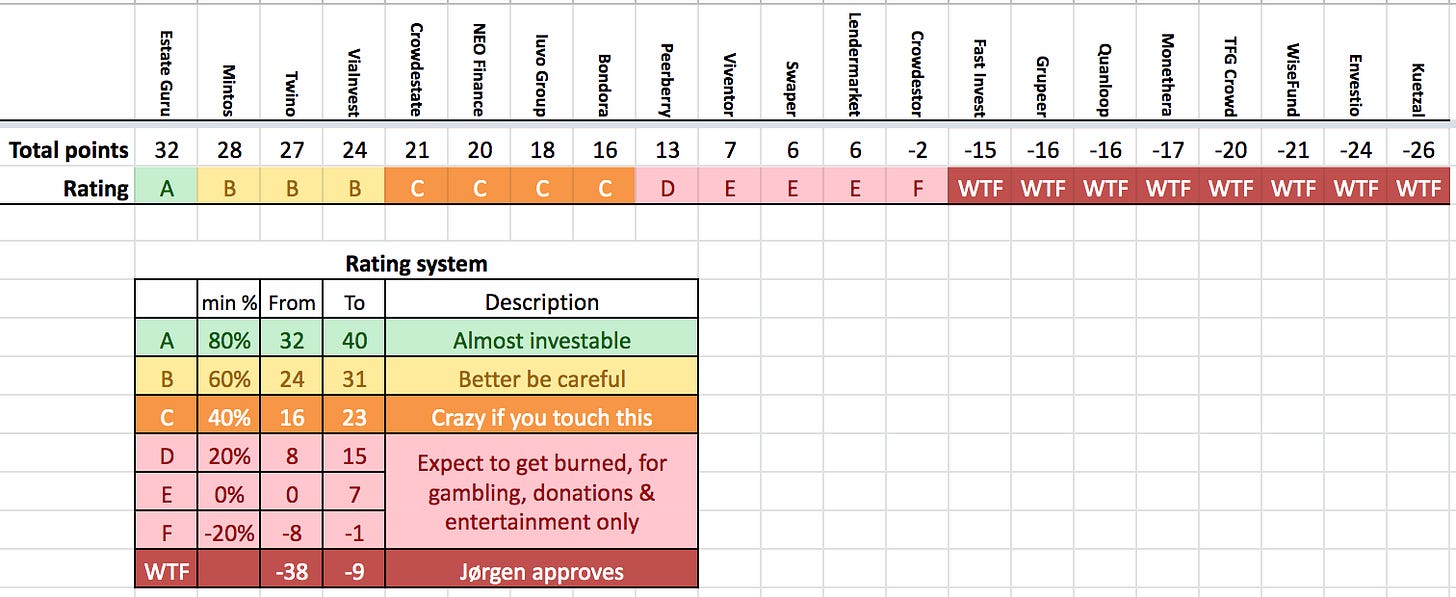 ---
Want to see other platforms included? Suggest them in comments. I will add the top requested platforms in the next update.
If you see any mistakes or still think, that something is really off in the rating system - please comment as well! It might help to improve it.
---
P.S. Join "High-risk investments" Telegram group for an informal discussion.