Discover more from Kristaps Mors
Stop losing money and learn to invest wisely
Over 1,000 subscribers
Mintos is the leading P2P platform in Europe with an estimated 40% market share. But not everyone knows, that it might also be the leading P2P platform when it comes to a thing called "conflict of interest". Is it important? Let's find out.
Mintos - who controls it?
According to public info, Mintos has 6 big shareholders:
2 co-founders: Martins Sulte (CEO), Martins Valters (COO, CFO)

4 investors: Maris Keiss, Aigars Kesenfelds, Kristaps Ozols, Alberts Pole
The only beneficial owner of AS Mintos Holdings is Aigars: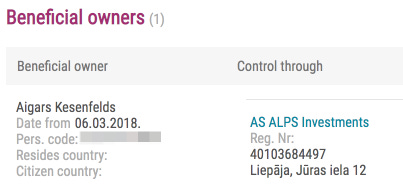 What is a beneficial owner?
According to the Latvian Law, an Ultimate Beneficial Owner is a private person, who owns in direct or indirect way over 25% of shares, interests or voting rights and/or has significant influence over the company.
So if both co-founders own less than 25% of Mintos, then my guess is that the 4 investors control Mintos not only by providing funding - 7 million EUR so far, but also through holding large % of shares.
Aigars was mentioned in Fitch report from Sep 18th, 2019 as well, but maybe "owns" is a bit too strong wording, considering that there are other shareholders:
Mogo's largest shareholder (Aigars Kesenfelds) owns Mintos, the P2P lending platform on which Mogo raises about a third of its debt funding.
Finitera & Monego case
In the beginning Kredo (Albania), Tigo (North Macedonia), Monego (Kosovo) were presented in Mintos as separate Loan Originators, but later situation changed:
Dec 6th, 2019: Monego lost license in Kosovo, Mintos promised following:

In the unlikely case when Monego would not make the contractual payments to investors and, as a result – all loans would become late, Finitera as a guarantor will cover scheduled borrower payments to investors having investments in Monego loans once these payments are delayed for 60 days.

Feb, 2020: I asked Martins Sulte, CEO of Mintos:

Can Finitera afford to buyback €8 million of Monego's bad loans?

Martins response: "Finitera is a bigger group, Monego is just a part of it. 8 million from total portfolio is not that big. The same is with Iute. It is just a local problem of much bigger loan originator groups. They are pretty smart about that - they understand, if something is going to happen in one country and they cannot stand behind that, the whole group is affected."
In short - 2 loan originators lost license at the same day in the same country, but for Mintos investors there are 2 different outcomes:
a) good scenario: IuteCredit Group dealt with Kosovo case, investors are paid back
b) bad scenario: Finitera made a promise to buyback late loans, but investors still have 7 million EUR frozen/in recovery.
What is the latest info from Mintos support? One of investors shared following:
Dear Asier,

We are coming back to you in order to answer your question: "Why if Monego (Monego SH.P.K.) has not made the contractual payments to Investors, being these delayed for more than 60 days, Finitera (Finitera JSC), as a guarantor, has not covered the scheduled borrower payments to investor?"

First of all, we would like to clarify some facts. Monego has never had a formal guarantee from Finitera, meaning Monego has never officially been part of Finitera group and has had a group guarantee. Please see information at Mintos web page.

Finitera: https://www.mintos.com/en/loan-originators/Finitera/#general

Monego: https://www.mintos.com/en/loan-originators/Monego/#general

At the beginning, it was Finitera`s voluntary decision to step in even though there were no agreements which urged them to do so. What Finitera said when the case in Kosovo with Monego escalated, that they will step in and cover contractual borrower payments, what was also done until the moment Monego's appointed liquidator Mr. Visar.Zeneli@monego.com took over the case.

Later when communication with the liquidator was established and first payments arrived, Finitera stepped aside. We had received from Monego's liquidator EUR 2 000 000 as the first repayment: https://www.mintos.com/blog/mintos-met-with-the-liquidator-of-monego/

As the global COVID-19 pandemic arrived and Kosovo had a severe lockdown and restrictions, the liquidator announced that no further payments will be made until the situation will stabilise, since that we just have received EUR 500 000 repayment from the liquidator Mr. Visar Zaneli.

In the last update on Monego on August 28, we informed the investors that:

"We are working with the liquidator in order to receive information on the next transfers of repayments to investors on Mintos. The latest information shared by the liquidator is that it is awaiting the outcome of tax audit before there will be more clarity on further payments. Even though we do not have any say in when the tax audit should end and when the payments should resume, we are inquiring with the liquidator about that and asking to keep us informed."

Also in the previous updates, we shared that: "Monego shareholders are awaiting the decision of the Supreme Court of Kosovo about the case of temporary security - the suspension of the decision of the Central Bank of Kosovo for Monego. If approved, the shareholder of Monego will regain control of the company and its operations while the court reviews the second case of the same decision being unlawful. Although the case is at its final stages, unfortunately, COVID-19 had also put implication on the execution of the work of the Courts in Kosovo, therefore, the decision has been delayed. In case the decision is in favor of Monego shareholders, the company immediately will regain control over Monego. If the outcome is not in favor of Monego shareholders, the next step is to approach the Constitutional Court which is expected to review the case within a month upon receiving the claim. Since last week, unfortunately, the situation in Kosovo has not changed and the delay of work of the local Court, caused by the pandemic, continues." 

As both Mintos investors and Monego funds are locked in, we all are waiting how this case will proceed and how Finitera will be able to help here in the future. We understand time goes by but unfortunately such processes rarely are fast. This case has not yet concluded. We will be able to draw conclusions about how the case was processed only when the situation we will see court decisions and based on that will react further.

To conclude, we intentionally haven't announced anything about Finitera as the case is not finished but we also didn't remove the blog post where we mentioned previous promises to maintain transparency.
Potential conflict of interest? Just like in Mintos - the only shareholder who owns more than 25% of Finitera, is Aigars Kesenfelds: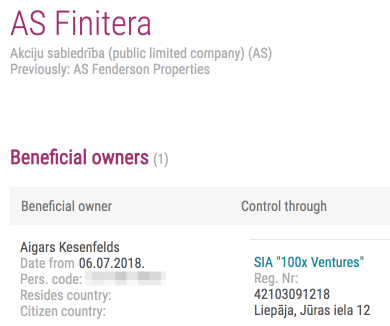 Any problem with situation? When Monego lost license and Finitera promised to take care of late loans, my first reaction was - "OK, nice, the right thing to do", but later when IuteCredit Group resolved it's Kosovo problem and Finitera just had excuses, that made me more skeptic towards Mintos.
If the biggest shareholder and only beneficial owner of Mintos and Finitera is not making sure that these kind of situations are resolved, I see that as a bad sign both for Mintos as a P2P platform, and for all the other loan originators listed on Mintos with the same shareholder.
The deal between Finko, Sebo and Mogo
Just 6 months ago Finko Group was the largest loan originator on Mintos, profitable and offering not only buyback guarantee, but also a group level guarantee: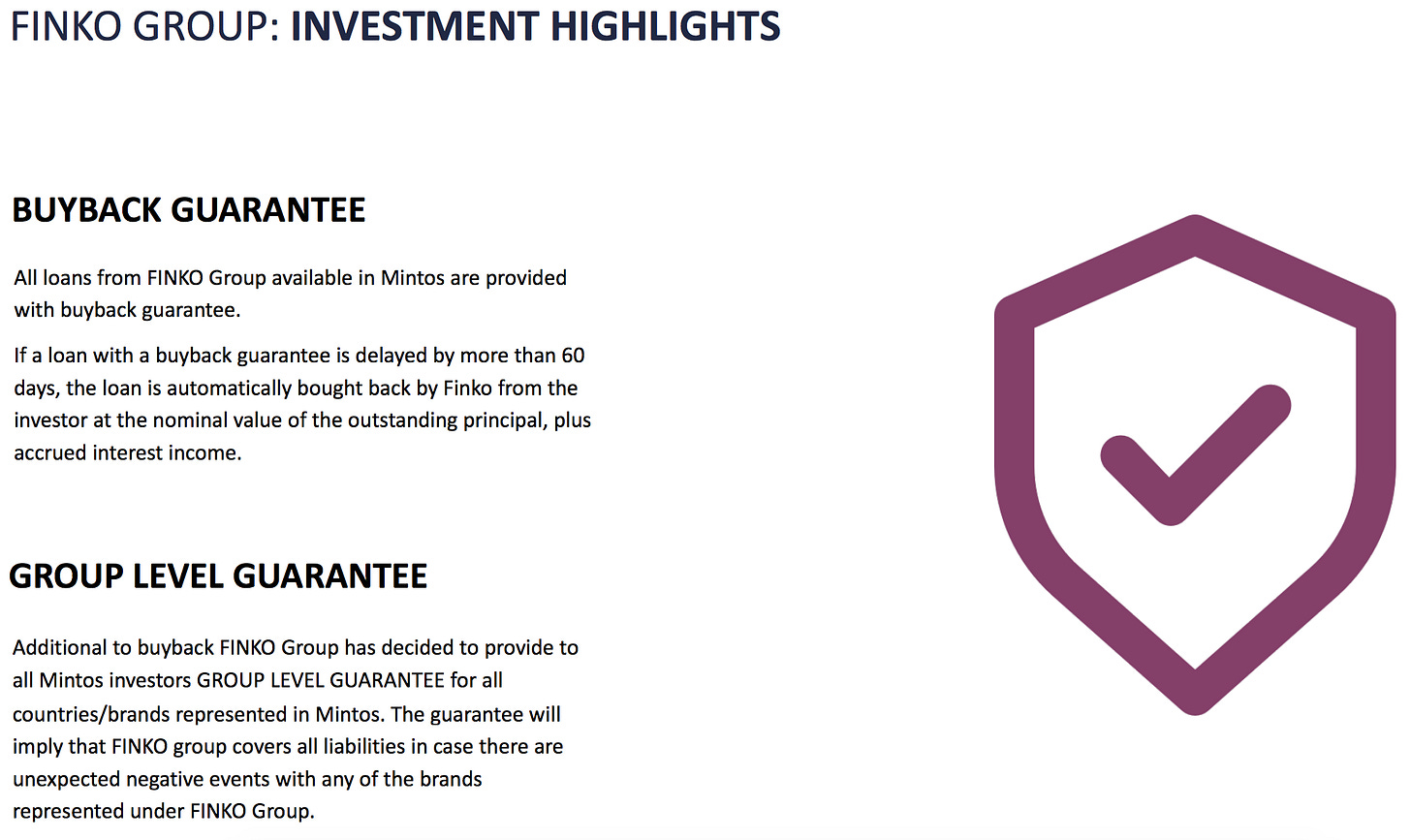 March 20, 2020:

Finko Group, the largest loan originator listed on the Mintos platform, has passed the €136 million revenue mark. The Group's net profit in 2019 amounted to €17.6 million. 

Finko Group now provides a group guarantee for all loans issued under the Finko Group umbrella.

blog.mintos.com/finko-groups-2019-financial-results-and-business-update/
But then the bad news started to come in:
In short - the biggest company (Varks) of Finko group lost license, the best remaining company (Sebo) was sold to Mogo, and 3 other companies went into wind-down (Kiva, Dinero, UkrPozyka).
And of course, in this kind of situation a thing like "group level guarantee" or even "buyback guaranee" is worth 0. Imagine a Finko investor, who invested in a 7-day loan with these 2 guarantees after reading that Finko group was the biggest loan originator on Mintos, and with profit of €17.6 million in 2019. What can go wrong, right? Suddenly the 7-day loan turned into a 3 year loan with uncertain outcome.
Potential conflict of interest?
Mogo owners can be found in bond prospectus. The same 4 Mintos investors:
Aigars Kesenfelds: 46.5625 % of the voting share capital of the Issuer;

Alberts Pole: 15.5208 % of the voting share capital of the Issuer;

Kristaps Ozols: 15.5208 % of the voting share capital of the Issuer; and

Māris Keišs: 15.5208 % of the voting share capital of the Issuer.
What about Finko group? Again, the only beneficial owner is Aigars: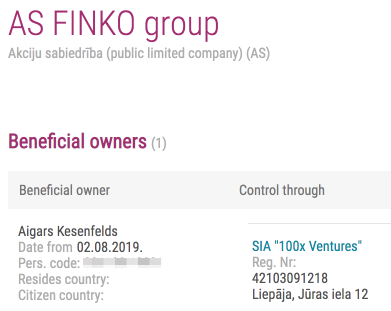 In short - we have 3 parties, that are all influenced by the same shareholders:
Mintos as a platform, benefical owner: Aigars Kesenfelds, other shareholders: Maris Keiss, Kristaps Ozols, Alberts Pole

Mogo as a loan originator on Mintos, beneficial owner: Aigars Kesenfelds, other shareholders: Maris Keiss, Kristaps Ozols, Alberts Pole

Finko group & Sebo as a loan originator, beneficial owner: Aigars Kesenfelds
Any problem with situation?
Well, if the same persons are controlling all sides of a deal, there is a big potential for a conflict of interest.
For Sebo investors it was presented as a good outcome:
Finko group's management decided that a gradual decrease of the portfolio and further shrinking of the operations is not in the best long term interests of Sebo stakeholders, mainly Sebo's customers and investors on Mintos. Finko group's management decided to agree on the sale of Sebo to Mogo group.

We believe that being part of the larger Mogo group, Sebo now will be in a better position for the future  with a stable long term funding backbone provided by the Mogo group, to develop profitable operations in the best interests of all current Sebo stakeholders, including investors on Mintos.
And for Mogo bond holders it was presented as a good outcome as well: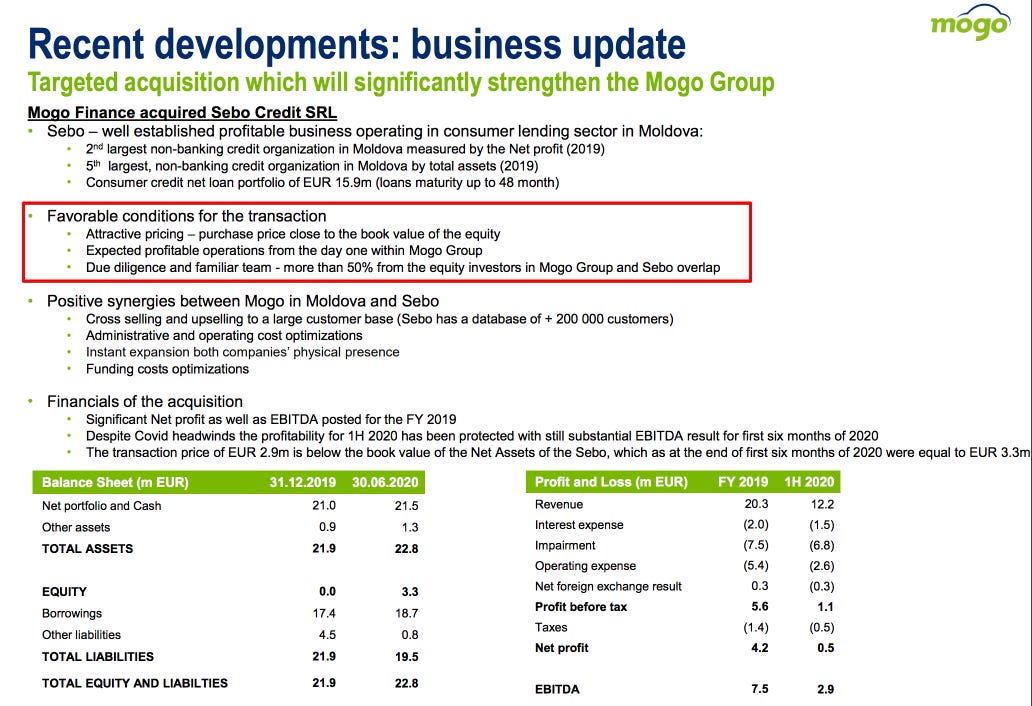 Of course, both might be true. Finko had become kind of a "toxic" thing - hit hard by the lost licence in Armenia + Covid impact on markets where they operated, and it was hard to imagine, that Mintos investors would be happy to continue funding Finko group loans, while being aware at the same time - that their old Finko investments are at risk and at best case might get repaid by end of 2022.
So moving Sebo from Finko group (toxic, not fundable anymore) to Mogo (funding available from Mintos + bonds) makes sense. But was this a good deal for Varks, Dinero, UkrPozyka investors? Not sure. Maybe the term "bag holder" is more accurate to describe them. And some questions remain unanswered:
Why was it so easy to reorganize and sell the best asset of Finko group for "a price close to the book vaue of the equity", if Mintos investors were promised a group level guarantee? If Mintos would act in best interests of Mintos investors, and the whole Finko group is being wind-down anyway, should not Mintos as representative of it's investors act as seller of any assets?

Why only part of the proceeds from the sale will be transferred to investors on Mintos to cover the buyback guarantee for loans issued by Varks? And how big is this part? "Part" is a very vague term, it can mean 1 EUR or 2.9 million EUR.

Who decided that Sebo was worth exactly 2.9 million EUR? Is it based on an independent valuation? Was any other potential buyer besides Mogo approached? What were the alternatives?
Whatever the answers, I tend to agree with this comment, that the "group level guarantee", specially in hands of 4 guys, who control all sides of a deal, is a joke:

Any more surprises?
I think it is very likely to get more interesting news from the same shareholders. More about that in second part of this post…
What about myself?
With these blog posts I think it is more likely that I am "working" against my interests, but I have to disclose my own potential conflicts of interest:
My wife works at Mogo, which is one of the biggest loan originators on Mintos

MaxTraffic, where I am the biggest shareholder, has clients from lending sector
Update @ 15.09.2020
I was planning to publish second part of this post on 14.09.2020, but I agreed to a request from Mogo to delay it for a week, so expect the second part on 22.09.2020
Update @ 22.09.2020
Part 2 is live: Mintos & conflicts of interest, Part 2
---
P.S. Join "High-risk investments" Telegram group for an informal discussion.