Discover more from Kristaps Mors
Stop losing money and learn to invest wisely
Over 1,000 subscribers
How much did the P2P bloggers lose in Kuetzal?
I am sorry to Jørgen for my previous blog post - you were taken as an example, but the same stuff could be written about almost any of the P2P investment blogs. So let's have a look at couple of them - how much have they lost in Kuetzal case and did they learn anything from it?
Last review, December 2019:
Kuetzal is an interesting platform that I am keeping an eye on. It's got lots of risk, but perhaps for the diligent there can be good money to be made. Currently though, it's going through what might turn out to be an existential crisis.

My stake on Kuetzal has now grown to 6,168 €. The interest was 96 € and IRR is at a great 20%.

Kuetzal definitely comes with high risk - high reward combo. The rates are phenomenal, but the ones covered with buyback guarantee have collateral too. Be careful though and make sure you don't just jump the bandwagon because others are on it, as there are lots of concerns on the platform.
After losing 6 168
€:
If you haven't heard, Kuetzal platform has collapsed and most of the details point towards fraud. There are those who are convinced that most of the projects didn't exist in the first place, if any.

I honestly don't know what to make of all this, but I have now accepted that I've lost 6k €. With my current passive income, that's about four months. But I feel I deserve it. I was greedy. I let my fear of missing out cloud my judgement. I jumped on the bandwagon. I was the dumb money. 🤷‍♂️
---
Last review, 19.12.2019:
Something is not right with Kuetzal. Please read this article before you consider investing with them!

I have made a buyback and withdrawal request and I will exit if possible, even with a loss.I cannot recommend Kuetzal until I have seen proof that the owner, Viktoria actually exists.

Proceed with caution!
After losing 25 000 €, 16.01.2020:
I consider Kuetzal a scam. They announced wind-down a couple of days ago, no payouts have been made since medio December (due to frozen bank accounts?) and more fraudulent projects were found.
---
Comment
on Sep 4, 2019:
The main reason why I am joining new platforms at the moment is because I can't invest with Mintos until the new regulation with the UK has been sorted. So I am trying to find "equivalents" platforms like Robocash. I joint Crwodestor only because I liked their Renewable energy project. I haven't dug much into Kuetzal as it hasn't transmitted confidence to me since the beginning, but it is still on my radar.
After losing nothing
:
As a peer-to-peer investor, I was expecting a scandal like that to happen sooner or later, and expect more to come. This one specifically didn't affect me, but I know that at some point I'll get my fingers trapped. From my personal point of view, the thing that can potentially protect me the most is "diversification". Even if I spend hours and hours researching and think that I am enough well-informed to don't diversify, I would still put diversification in front, and especially in the P2P lending market, where not all information is transparently revealed and many try to make a business from it.

Anyway, Kuetzal brings me a reminder about the risks of investing via peer-to-peer lending and how important it is to know and be aware of your own risk tolerance. If you are a P2P investor and panicked after the news, I would reconsider your asset allocation.
---
Still has no idea she lost 1 926 €, 14.01.2020:
Kuetzal is an Estonian platform which started in 2018. Lots of things have happened in the last two months and they mailed all of the investors two days ago (click to enlarge):

So they basically are saying that Kuetzal pulled the plug. I hope that all of the investors will get their money back, but we have to wait and see.

Personally, I'm still unclear if Kuetzal is a scam. I still feel that two bloggers have spread an enormous amount of panic without knowing all of the facts, which led Kuetzal to be reported by a lot of people and their reputation went downhill. This caused their bank account to get blocked for AML (Anti Money Laundering) reasons. And that is the reason they can't payout withdrawals at this moment.

They have definitely made mistakes, but I still think that the whole situation is blown way out of proportion. But of course Kuetzal might really be a scam, I can't deny that certain things do feel very bad. Especially the lack of information from Kuetzal itself in all of this.

The good thing about this is that it's a good lesson to always pay attention and do a thorough due diligence before investing. And that you can lose money if you invest it. That is the risk of investing and you should always be aware of that.
Defending Kuetzal even more, 14.01.2020:
I think that spreading panic is what killed Kuetzal actually (although not many people agree on that opinion). And it's sad that a lot of investors are now talking about Envestio this way. They are spreading panic again. This way every platform will go bankrupt, just by spreading panic. It's stupid.

As I might have lost money on Kuetzal already, I felt better to get my money from Envestio back before everyone actually is panicking and it's becoming a bankrun. I'm just going to wait what's going to happen and hopefully everything is going to calm down again. Envestio was one of my favorite platforms, so I will come back as investor when everything is sorted out in a good way.
---
Review on 25.10.2019
Is Kuetzal Safe to Use?

The most notable risk of investing through platforms such as Kuetzal revolves around loan defaults by projects. To reduce this risk, Kuetzal performs thorough due diligence before accepting any project on the platform. This is fundamentally why Kuetzal only hosts premium projects on the platform. Kuetzal also requires security and a personal guarantee from project owners to ensure that they do not default on loans.

The fact that the platform offers a buyback guarantee on most of its loans is a great way to ensure that your investments are secure. If a project defaults, the platform will repay the loan within two months but only after the default status has been confirmed. So far, the platform has never experienced any default.
After losing 0
€
on 16.01.2019
Kuetzal is a scam? Some P2P bloggers think it might be a scam. They have loads of evidence and concerns that indicate the P2P platform might be falling apart.
Nothing is 100% certain, but please read this article before making any decisions – https://financefreedom.eu/is-kuetzal-a-scam-how-it-all-came-to-light/
---
Still has no idea he lost 5 000 €, 08.01.2020:
The performance of my investments has been, to put it simply, just fantastic. In November I obtained an XIRR of 13.84%, and in December I got a terrific 14.10%, the highest so far. Kuetzal, Envestio, and Crowdestor have sky-rocketed benefits, consolidating as the most profitable crowdfunding platforms. However, some really serious concerns have arisen over Kuetzal.

Although apparently Kuetzal's performance is just unbeatable, recent news seems to indicate that it all could be a bad mirage.

December has been a very complicated month for this platform (and especially for us, investors) sincelots of very suspicious information about Kuetzal has been discovered by some blogger colleagues:

It all started on December, 10th when Oscar Harrington from Explore P2P wrote this article about a project published on Kuetzal to lend money to an apparently fake petrol company.

The following day, Jørgen Wolf from Financially Free wrote this post with a growing list of concerns about Kuetzal.

The same day, December, 11th, Kuetzal wrote a post on its Facebook account, stating that because of all the questions/issues arisen about that project, they intended to invite independent auditors to perform company research of SIA Alborg Petrol.

A new post by Oscar Harrington from Explore P2P was published on December, the 19th. After a meeting between Jørgen and Kuetzal's new CEO, Maksims Reutovs, new concerns were discovered. One of them is that Maksims confirmed a Kuetzal's bank account had been blocked by their bank due to AML (Anti-Money Laundering) issues.

The last 10 days of 2019 and the first week of January were filled by almost complete silence from Kuetzal. Only some investors received a quite generic answer through Facebook Messenger stating all withdraw and buyback petitions would be resumed in mid-January. But no phone or e-mail answers at all.

Today, January the 8th, some investors have received an answer from Maksims via LinkedIn messages. Maksims says they are now trying to unblock their bank account to be able to make all of their pending transfers. They expect to finish their AML procedure by the end of January and make every payment during the first week of February.

After all that has been said in the previous list, I don't really know what to think. It looks quite bad, indeed. But if it is a scam, why do they keep the website online and answering messages by LinkedIn? Why Maksims Reutovs, the new CEO, would expose himself enrolling to a fraudulent company? And if it's not a scam, why not be transparent and make public communication on its website? To buy time and vanish? I'm afraid we can only wait and see. And, if necessary, take legal actions.

In case you don't know by now, 2 Telegram groups have been created where we investors share information and decide what to do about Kuetzal:

https://t.me/KuetzalDiscussion

https://t.me/CrowdlendingGlobal

Since at the moment no fraud or scam has been officially proved (and everyone is innocent until proven guilty), I won't count Kuetzal's investments as losses. Not yet, at least. But of course, I won't make any new investment either.
---
Last review on 11.11.2019:
It seems Kuetzal doesn't intend to leave the TOP 1 position. This crowdfunding platform keeps offering the highest interest rates in the market, and stands out by the punctuality of its payments. In August the XIRR has increased to 19.45% (it was 19,36% in September). It has returned €77.49, the same amount as in the previous month.

If you want to invest in Kuetzal, you can register with this link, and you will earn an additional 0.5% of all your investments made within 180 days.
After losing 19 580
€,
12.01.2020:
I don't even know where to start. Returns are on par and keep flowing as expected. But who cares about returns if you start wondering if you'll ever see your money again. And that's exactly what's happening right now. On January 12th Kuetzal has announced its winding down its operations after unrecoverable reputational damage.

If you're wondering why, I refer to the following two articles:

As a result, loads of investors have lost faith. And rightfully so. And so have I. 

I have requested buybacks and initiated withdrawals of the outstanding balance on December 19th. So far nothing has been received. On the 8th of January a response came from Kuetzal, their bank account is supposedly blocked due to AML restrictions and this might take until the end of January.
---
Last review on 12.12.2020, 0
€
lost:
Wanted to warn my readers who might have not already heard of issues around Kuetzal. You can read more here – https://explorep2p.com/alborg-petrol/ and here – https://financiallyfree.eu/concerns-about-kuetzal-is-kuetzal-a-scam.

Several projects which are posted on their website seems like a fraud and if you have invested with them I am recommending to withdraw the money now and take the loss of 10% rather than 100%.

There are not issues with all projects, however, the recent event of changing their CEO does not help with trustworthiness.
---
Last review:
Estonian P2B Crowdlending platform, one of the newest to join the Market, but with a very nice preposition, as explained below:

Some loans with Buy-Back Guarantee, with is very uncommon for Business Loans, however not all of the 

Kuetzal Care, meaning that if the project has not been fully funded by the members of the platform, Kuetzal will take care of the completion of the funding target. 

Probably offering one of the highest yields for this type of loans. 

No SecondaryMarket.

As average, few new loans that are published weekly.

No Auto invest tool, manual effort is required.

Kuetzal differentiator? Buy-Back Guarantee in Business Loans.

Obtain 0.5% Bonus of your investments done in the first 180 days when using my Link
After losing 600
€, Jan 2020:
Additionally, added some investments in the Real Estate Crowdlending. However, on the negative side, the P2P Community started to question themselves whether Kuetzal is a fraud or not. 
---
Review before:
Kuetzal creates good crowdfunding practices providing investors an insight into projects from various industries. The main criteria are financial indicators rather than the industry. Kuetzal aims to be a platform that connects the most promising regional projects with investors to create mutual high value added cooperation.
After losing 1 635
€, 01.01.2020:
Bad news on Kuetzal. It started with an e-mail stating that the CEO was replaced. Followed by an e-mail regarding a change in the tems-of-use (not in favor of the investors) and a blog post about a possible scam on a project called 'Alborg Petrol' and later on the platform itself. Many investors are selling their projects under the buy-back program (with a 10% cost margin) and leaving the platform. I did not make use of the buy-back program yet. I did request a transfer of money not invested just before Christmas. So far it hasn't been deposited on my bank account. I might take some weeks due to the special circumstances.
---
Last review on 12.12.2019:
It seems that either Kuetzal is purposefully hiding information from its investors or Kuetzal's borrowers are just easily fooling them. Maybe both… Looking at Kuetzal's terms and conditions5.6"The Portal Operator does not perform any due diligence of the Borrower or the Project" it seems like anyone can borrow money from them. For me this is unacceptable.

I don't know what will happen next, but I made my decision. This morning I sent a request to Kuetzal to withdraw money from all investments with buyback guarantee. Luckily, I have only around 1K euro invested on the platform and I'm ready to lose 10% (early exit fee). Please don't take it as a recommendation. I'm not panicking and don't want others to panic. To be honest, I'm even not sure whether this "money guarantee" thing will work this time. I didn't get any answer yet, we will see how it goes.
After losing 1 027
€
, 10.01.2020:
This is probably the last time I mention Kuetzal in my blog posts. On December 12, I initiated buyback. So far, I didn't receive any money from Kuetzal back. I've no intention to invest in this platform in the future even if I receive my money. 
---
Last review on 06.01.2020:
There have been many talks about fraud in Kuetzal. I'm not gonna go into detail, but Jørn Wolf from Financially Free has made a well-written blog post about this here.

For now, I let my investments be, but I surely won't be depositing any funds at this time.
So how bad is it?
As a reminder, previously I wrote:
If you think, that you can get a 15+% return on your investment with no risk and someone will guarantee that, you are dumb as fuck, and will learn that the hard way by paying for education with your "investment".

If you "invest" without doing any research and without understanding the risks behind the investment, well - good luck, but my bet is that you will do better playing roulette in a casino.

99% of P2P bloggers are either as stupid as the investors or know that they are promoting shit, but they don't care - they will get their commission for referring new "investors".
Looking at a sample of 16 blogs - only 68% of them lost money with Kuetzal. Was my estimate off? Well, not really. The party is only getting started. I am sure that in next 2 years we will see more platforms shutting down and new scam projects appear.
Discussions about regulating this sector are going on for years, but there is no progress and I don't think anything will be done soon, so anyone can set up another company with fake or stolen projects, promise unrealistic returns and later shut down.
My hope is that these bloggers will learn from mistakes (and there are at least 100 more of them) and after next platform shutdown I won't have to report, that the same people lost money again the same way - without doing any research and blindly trusting empty promises.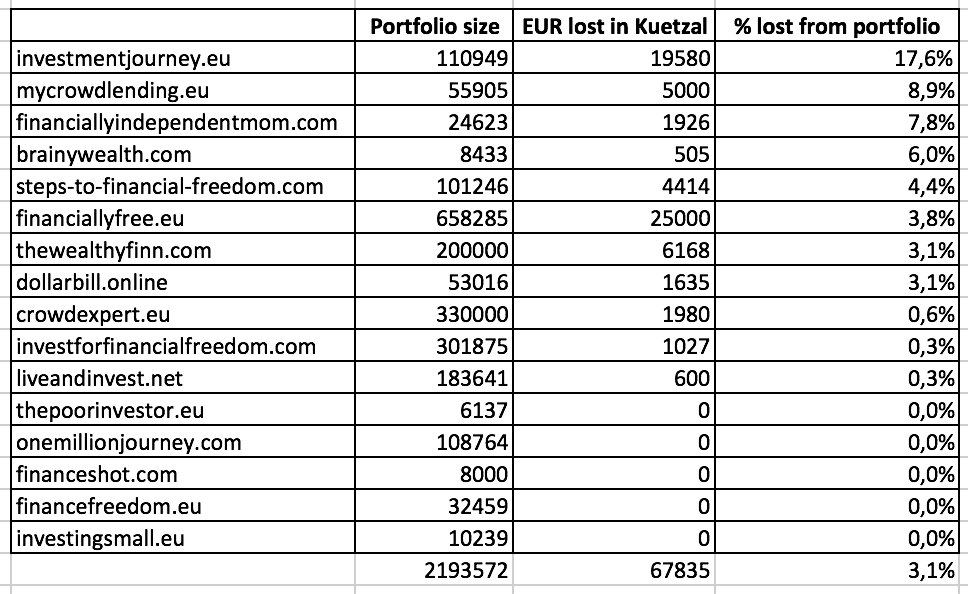 By the way, special shout out to the conspiracy shit written by Financially Independent Mom - forget Jørgen, Janneke is my new favourite P2P blogger. If there is one person from this list who will not only lose money from investing in P2P in one or several platforms, but get negative ROI overall - then that is her. But not everything in life is about money, right? So if you are here for the journey and not so much about profit, then join her - the ride to zero will be like Titanic on steroids.
Why does this happen?
Is everyone stupid? Well, not really. I've made dumb decisions as well and the path to "financial independence" is not easy. Most of the blogs I checked - are run by guys who are just starting to learn something about investing. Good decisions come from bad experience. Some people learn from others, some must do their own mistakes.
And there is a problem with incentives as well:
Bloggers are motivated to write about as many platforms as possible, including the shady ones. That is why many of them have built comparison tables as well. Anything to get new retail investors sign up from their referral links.

Bad reviews don't make money. Why spend time on research and write about your concerns if that means - no one will sign up in the platform reviewed?

Some platforms will attack those, who criticise - making up some conspiracies instead of addressing concerns. And the inexperienced investors will join in to defend the business which they think will bring them huge returns.

These bloggers have made up their own stupid competition to show - who will get to financial independence faster. So of course - that motivates everyone to join the scam projects for "higher" returns.

Just like Jørgen, some of the bloggers try to run this as business and then incentives between bloggers and investors can get misaligned fast. Just look at the potential returns: 280 EUR on Google Ads can generate 926 EUR in affiliate commissions, that is crazy high 330% return per month, assuming all traffic is paid. Why invest your money into P2P to get 10% return, if you can invest it in Google Ads instead and grow your business?

Key takeaways
68% of the bloggers failed to do basic research.

Bloggers don't give a shit about your returns or losses.

Don't blindly trust anyone, including me.

Be skeptical all the time when it comes to investing.

There are no low risk investments with 10+% return.

Even the best platforms will try to take advantage of you.

You are responsible for your money.
---
Want to get access to exclusive content? Become a paid subscriber:
Or join "High-risk investments" Telegram group for an informal discussion.